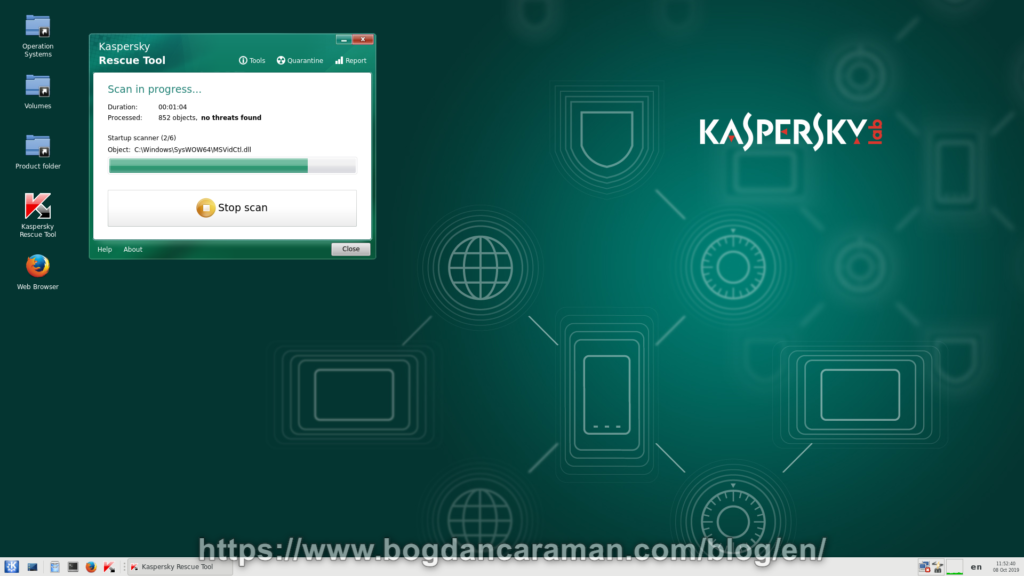 Kaspersky Rescue Disk is a portable bootable tool that can be created with Rufus after downloading the latest krd.iso file directly from https://www.kaspersky.com/downloads/thank-you/free-rescue-disk. This disk includes an antivirus solution for the systems where a standard antivirus cannot detect or remove threats like viruses, trojans, adware, and other programs, or the operating system does not start due to virus infection. Based on Gentoo Linux x86_64 and a lightweight version of KDE as the desktop environment we found on this the following useful tools:
Kaspersky Rescue Tool – can only manually scan your selected drivers on your system, so this tool does not provide real-time protection. To update the virus database you need your system to be connected through a wired connection;
The Thunar File Manager where you can move the files between partitions or you can copy the documents directly to the USB stick. On the Desktop, you will find 3 shortcuts: Operation Sytems, Volumes and Product folder. At Volumes' Shortcut, you can discover your USB where you can create a folder to copy important files. If some of the partitions are encrypted (e.g. with BitLocker), then you cannot see it to scan or to copy files from there;
The visual file manager Midnight Commander similar to the oldest Norton Commander;
Terminal Emulator – xfce4-terminal;
Image Viewer – ristretto;
Text editor – Mousepad;
Task Manager who can provide information about the processes and applications;
Web Browser – Firefox ESR (Extended Support Release).
You can find the latest version of Kaspersky Rescue Disk at https://www.kaspersky.com/downloads/thank-you/free-rescue-disk